Who run the world?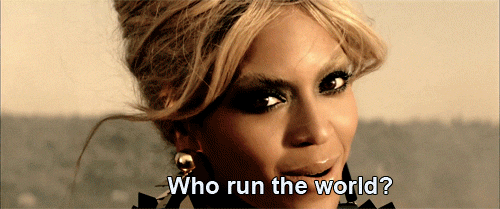 When it comes to the world of Customer Success, these ladies are leading the way. Their ideas are making businesses around the globe rethink customer relationships and how they deliver value. So what better day to celebrate their strength and successes than International Women's Day? If you're not following these seven women, you're missing out.
Catherine Blackmore, GVP of Global Customer Success at Oracle Marketing Cloud
Twitter: @catherineblckmr
Catherine's LinkedIn
With over 20 years in the industry, Catherine is a powerhouse of Customer Success innovation. Her thought leadership is fueled by real-life experiences which makes for valuable content on the structure and organization involved in running a first-class Customer Success strategy. She's been named one of the Top 50 Influencers in Customer Success and her published works include myriad ebooks, blogs, and white papers.
Learn from her:
SaaStr Customer Success AMA with Nick Mehta
Pulses 2018: Customer Success! Part Deux: What I Learned Building My Customer Success Again
Tiffani Bova, Global Customer Growth and Innovation Evangelist at Salesforce
Twitter: @Tiffani_Bova
Tiffani's LinkedIn
For the impact she's had on the Customer Success movement, it's no surprise that Tiffani Bova was named one of the "Most Powerful and Influential Women in California." Strategist, advisor, and influencer, Tiffani has worked with numerous companies, giving her a deep understanding of the inner workings of client engagement. Her work can be found in publications like Forbes and HBR. She's also the host of "What's Next!", a podcast that explores the future of business innovation and growth.
Learn from her:
What's Next! With Tiffani Bova
Customer Success = Customer Outcomes + Customer Experience
Emilia D'Anzica, Vice President of Customer Success at Qordoba
Twitter: @emiliadanzica
Emilia's LinkedIn
Emilia is a Customer Success evangelist and blogger with over 15 years of experience in structuring and scaling post-sales customer experiences. She's an active speaker and has shared her wisdom at events like Pulse and SaaStr. Emilia's published works cover the gamut of Customer Success best practices and strategies, including Voice of the Customer, change management, NPS, and much, much more.
Learn from her:
The Customer Success Podcast: How to Find a Job in Customer Success with Emilia D'Anzica
Sue Nabeth Moore, Customer Success Leader and Founder of Success Track Enterprise
Twitter: @Nabeth_1
Sue's LinkedIn
Sue Nabeth Moore has worn a variety of hats working in sales, customer service, change management, and consulting. She's since combined her talents to pave the way for Customer Success in Europe. Sue is the founder of Success Track Enterprise, a consulting firm that partners with recurring revenue businesses in Europe, and frequently shares her knowledge at events like Pulse Europe and Web Summit.
Learn from her:
Mapping the Customer Journey with Engagement Models
Pulse Europe 2017: Where the Streets Have No Name: How to Map the Customer Journey
Martine Niermans, Cofounder at Junior Beleggen
Twitter: @MartineNiermans
Martine's LinkedIn
Martine has a passion for helping companies rally around the customer. For over 16 years she's dedicated herself delivering customer outcomes and used those learnings to create Q10 Consultancy, a firm that helps companies create a better customer experience and journey. Her thought leadership has made a big impact on the Customer Success movement in Europe.
Learn from her:
How to Turn Regional Challenges in EMEA into Advantages
State of the Union: Customer Success in Europe
Nicolle Paradise, Senior Director of Client Experience at ADP
Twitter: @NicolleParadise
Nicolle's LinkedIn
15 years of leading client-centric companies has prepared Nicolle for a life of jet-setting and evangelizing the important role customer experience plays in Customer Success. Author, speaker, and thought leader, Nicolle has been voted one of the top CX industry influences. A member of Tedx San Francisco, you're bound to run into her at industry events—you can even catch her at Pulse 2018.
Learn from her:
Thoughts from Paradise
Allison Pickens, Chief Customer Officer at Gainsight
Twitter: @PickensAllison
Allison's LinkedIn
Allison has made her mark on the Customer Success community as an active thought leader and speaker. Her roots are in sales and entrepreneurship and she's been named one of the Top 50 Sales Leaders. She's the host of The Customer Success Podcast and has been a guest on podcasts like The Official SaaStr Podcast and Customer Marketing Radio. A prolific writer, Allison has published articles that cover a wide variety of Customer Success strategies and best practices and frequently speaks at industry events.
Learn from her:
The Customer Success Podcast
Blog posts by Allison Pickens
This is just a tiny sample of the incredible women contributing to the Customer Success movement. Which power women are influencing you?